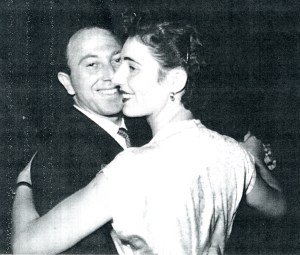 Photo reproduced with kind permission from the Bassos and CoAsIt
Gina Basso (nee Costa) dancing with her husband Giacomo, soon after her arrival in Melbourne in 1953



Photo: CCHG
Giacomo and Gina in their shop in 2012
The Bassos of North Carlton : A Love Story and a Full Life
In 2013 Giacomo and Gina Basso celebrated living and working in Rathdowne Street for over 60 years. That by itself is some feat, but when people realise something of their Italian backgrounds and the various trials and tribulations this steadfast, courageous couple have weathered, the celebrations seem low key for a 93 and 81 year old.

Both of them came from large extended Italian farming families, in an area depressed by urban development. Both experienced the 2nd World War on the losing side and both started working very young - Gina part-time from the age of 7, to fill in the half days she was not at school while her mother worked more hours on the family farm, and Giacomo at 13, as he was the eldest of four who had to help support his family after his father had died when Giacomo was 9, and his mother died 7 years later. While Giacomo's training was limited, Gina thoroughly learned dressmaking and embroidery until at 15 she began training as a men's tailor in the place where Giacomo was working. They fell in love and have been together ever since, apart from the separation when Giacomo went to Turin in late 1949 to make robes for the Christian Brothers and then migrated to Australia, not his first choice. He sold his only asset, some land, to pay his fare and with the support of a Myrtleford tobacco grower and his Italian friend Sante Forte, he landed in Australia in early 1951.

Almost immediately finding a job, earning money and learning a new language were problems for the 32 year old, who wanted to save enough to bring Gina to Australia, despite the fact that Gina's mother was unhappy with her leaving. They were married by proxy, with one of Giacomo's brothers, Giovanni, standing in for the bridegroom on 6 July 1953, while on the same day in Australia, Giacomo and another of his brothers, Antonio, paid the deposit they had saved on what was then a dilapidated building in Rathdowne Street, in which they still live.

As a couple they faced living and working as tailors in the same place, home renovations with very limited funds, rearranged mortgages, the problems of learning a new language for Gina and learning to drive for Giacomo, lack of privacy, council regulations, noise from traffic and machinery next door, as well as drunken customers from the Kent Hotel. These were balanced against having a son, Robert, family connections, good and generous friends and neighbours, both Italian and Australian.

Giacomo summed up their lives:

"It has been hard at times, particularly when sickness strikes, but very rewarding. We have enjoyed our life and are proud of what we have done together and how we have weathered adversity at times. We have real joy in each other, our son, his wife and children, our lovely grandchildren, our in-laws have been an added bonus. We have been very fortunate to have our son marry into a supportive family."

Sadly, Giacomo died on 19 September 2014. He was a well respected member of the local community, with a friendly word for all, combined with a slighly cheeky twinkle of the eye.

Carlton Community History Group acknowledges the generosity and openness of this remarkable family.

Contact CCHG for access to interview transcripts and other material on the Bassos.