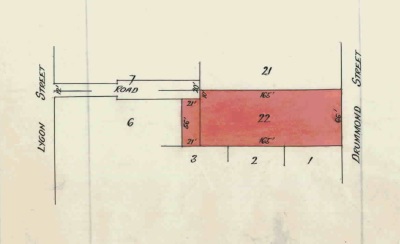 Source: Extract from Certificate of Title, Vol. 4438, Fol. 468
Plan of Christopher Glynn's Allotment
The road from Lygon Street is York Place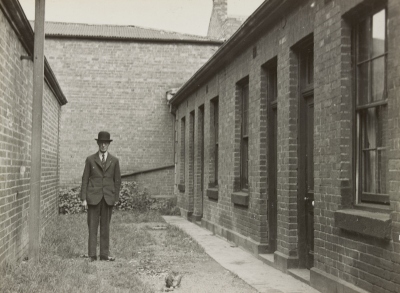 Digitised image: State Library of Victoria
Carlton Place Carlton, off Drummond Street, in the 1930s.
---
1 MMBW Detail Plan 1187, 1897 (Digitised copy, State Library of Victoria)
2 The two other streets named Carlton Place were off Lygon Street, between Earl and Queensberry Streets, and off Madeline (Swanston) Street, near Queensberry Street.
3 Biographical information has been sourced from birth, death and marriage records.
4 New South Wales Shipping Records, Assisted Migrants
5 In quarantine : a history of Sydney's quarantine Station 1828-1984. Kangaroo Press, 1995, p. 55-57
6 Melbourne General Cemetery records
7 Certificate of title application file no. 10602 (VPRS 460)
8 The Age, 9 November 1858, p. 5
9 All Saints Church of England 1858-1958, souvenir booklet, p. 8-9
10 The All Saints Church was built in stages over several years and the initial contract awarded to Christopher Glynn was for laying the foundations to plinth level only. Two other builders were contracted to build the walls and roof.
11 City of Melbourne Rate Books, Smith Ward, 1859-1874
12 The Argus, 20 July 1860, p. 1
13 The Argus, 7 June 1862, p. 4
14 Declaration, dated 29 December 1869, by Christopher Glynn in certificate of title application file no. 2295
15 Certificate of title application file no. 42616 (VPRS 460)
16 Certificate of title application file no. 2295 (VPRS 460)
17 Certificate of title, vol. 275, Fol. 998
18 The Argus, 15 July 1874, p. 8
19 Victoria Government Gazette, 5 July 1872, p. 1268
20 The insolvency was declared a few weeks after the marriage of Christopher Glynn's daughter Mary to Lambton Le Breton Mount at St Peter's Eastern Hill on 17 June 1874.
21 The Advocate, 4 July 1874, p. 9
22 Land ownership information has been sourced from certificates of title previously cited.
23 Weekly Times, 5 August 1882, p. 13
24 Melbourne General Cemetery records
25 The Argus, 13 November 1897, p. 10
26 Probate File 149/822, 1917 (VPRS 28)
27 First (Progress) Report of the Housing Investigation and Slum Abolition Board (1936-37)
28 Certificate of title, vol. 9786, fol. 027 (consolidation plan) and preceding titles.
Carlton Place Carlton (off Drummond Street)
The Carlton Clocktower, with the time standing still at 12 o'clock, is a prominent landmark in Drummond Street. The business and accommodation complex was built in the 1980s on a site once occupied by Carlton Place, one of three so-named streets that co-existed in Carlton in the mid-19th century. The laneway was accessed from the west side of Drummond Street, between Grattan and University Streets, and the east side of Lygon Street via York Place. The four brick cottages stood midway between Drummond and Lygon Streets and faced the rear of 239-241 Drummond Street.1,2
The man who created Carlton Place was a stonemason named Christopher Joseph Glynn, from Cork in Ireland. He married Margaret Sophia Raymond on 4 November 1849 and they had a daughter, Anna Maria, in 1852. The family emigrated to Australia on the Beejapore, but the journey was marked with tragedy. There was an outbreak of disease on board and 55 passengers, mostly children and infants, died and were buried at sea. On arrival in Australia on 6 January 1853, the ship was quarantined at Port Jackson, New South Wales. Having survived the 85 day voyage, the passengers and crew, numbering nearly 900, had to be accommodated for another 34 days at a quarantine station designed for 150 people. Disease was rife in the crowded conditions and another 62 passengers died, among them Anna Maria Glynn on 18 February 1853, at the age of 11 months.3,4,5
Christopher and Margaret settled in Melbourne, where there was ample work for builders and stonemasons as the city extended its boundaries to house a growing population. They had three more children - Christopher (1854), Mary (1856) and Patrick (1857). The family suffered another loss when Patrick died on 8 December 1857, aged 9 months. He was buried in Melbourne General Cemetery and his parents had a monument erected in memory of Anna Maria and her brother Patrick.6
Christopher Glynn became a landowner in February 1858 when he was granted the crown title to an allotment facing Drummond Street, Carlton. He paid £470 for the allotment and in August of the same year, he paid another £84 for a portion of land from the adjoining allotment owned by John Harbison. This land, 56 feet wide, formed the western boundary of Carlton Place and the four cottages that were built there. Later that year, Glynn was awarded a contract to the value of £358/11/8 for laying the foundations of the All Saints Church of England in St Kilda. The work was undertaken during November and December of 1858 and most likely funded building of the modest cottages in Carlton Place.7,8,9,10
Records for Carlton Place first appeared in the City of Melbourne rate books for 1859. Unlike his tenants living in narrow three-room brick cottages, Mr Glynn and his family lived around the corner in Drummond Street in a six-room stone and brick house, complete with kitchen, bath and stables. Mrs Glynn advertised for a visiting governess in 1860, so they could afford to have the children home-schooled. But the family's time together was cut short with the death of Margaret on 6 June 1862. She was buried in Melbourne General Cemetery with her son Patrick, and her name was added to the monument. Christopher married Mary Ann Pye six years later on 6 June 1868, at St Jude's Church.11,12,13,14
Christopher Glynn had other real estate holdings in Carlton. In 1860, he purchased land in Barkly Street for £270, built five bluestone and brick cottages named Barkly Terrace in 1862 and sold the improved site to Abraham Levy for £1,250 in 1868. He owned two corner sites in Lygon Street, on opposite corners with Grattan Street. In 1862, he purchased the University Hotel, which he leased to publican Michael O'Connell for a three year period commencing 1 February 1869. On the other corner, he purchased the site, now occupied by Watt's shoe store, in 1868.15,16,17
Christopher Glynn was active in local government and represented Smith Ward on the Melbourne City Council until his resignation in 1874. He also became involved in the brewing trade and this proved to be his financial downfall. In June 1872, his business partnership with James Byrne in the West End Brewery was dissolved by mutual consent. Two years later, in July 1874, Christopher Glynn and his business partner John Buckley were declared insolvent. The reasons for insolvency were cited as "losses in business, through large quantities of beer being returned by customers as unfit for use, on account of its going bad, and through large quantities going bad on the hands of the firm, and becoming unfit for sale, notwithstanding their efforts to keep it in good condition." Clearly, Messrs Glynn and Buckley had serious problems with their brewing process.18,19,20,21
John Halfey and William Joseph Ecroyd were appointed trustees of the insolvent estate and their task was to sell off assets in order to pay creditors. The University Hotel was sold to John Wolstenholme in October 1874 and the Drummond Street allotment, comprising Carlton Place and Christopher Glynn's house, was sold to John Holtom in December 1874, just before Christmas. The Glynn family, most likely, did not have much to celebrate during the festive season that year. In February 1875, John Holtom leased part of the allotment to William Bland, a dairyman from Coburg, and in July 1877 Mr. Bland purchased the entire allotment.22
In the years following his insolvency and resignation from Melbourne City Council, Christopher Glynn seemed to disappear from public life. He died in Carlton on 29 July 1882 and the circumstances surrounding his death reflect poorly on hospital admission policies at the time. Glynn was taken to the Melbourne Hospital the day before his death, thought to be suffering from a burst blood vessel, but he was denied admission on the grounds that he had senile dementia. He was only 53 years old and, from what is now known of dementia, his symptoms may have been medical in origin. Following his death, a complaint was made by a man named Mr McDonald to the hospital board, which subsequently upheld the decision of the medical superintendent, Dr. Miller, stating: "If they were to admit all such cases, there would soon be no room in the institution for acute and deserving cases." A newspaper report of Glynn's death commented he "was a very old colonist, and at one time wealthy." Christopher Glynn was buried in Melbourne General Cemetery, with his first wife Margaret and son Patrick.23,24
Meanwhile, William Bland the dairyman had swapped his cows for horses and was operating a livery stable at 241 Drummond Street. He received quite a shock in November 1897 when a stone parapet fell from his house and crashed onto the verandah, causing an estimated £100 damage. Would Christopher Glynn have turned in his grave had he known that the house he built was unstable? William Bland was the longest-running owner of Carlton Place and he continued operating the livery stable into the early twentieth century, in the face of stiff competition from Freeman's livery stables nearby at 337 Drummond Street. He died in England on 18 September 1916 and his real estate holdings in Carlton, comprising 241 Drummond Street and the four cottages of Carlton Place, were valued at £1820 when probate was granted in May 1917.25,26
In 1921, William Bland's real estate was sold to his one-time rival Henry Freeman, livery stable keeper. A few years later, in 1924, Chin Wah Moon and Ah You were owners for a short time, then onsold the land to James and Edward Hannan, bottle merchants, in the same year. During the Hannan's ownership, Carlton Place was identified as a slum pocket by the Housing Investigation and Slum Abolition Board in their report of 1936-37. This was the last year in which Carlton Place appeared in Sands & McDougall and the rate books as a residential street. By 1939, the land was absorbed into 239-241 Drummond Street, then sold to T.L. Properties Pty Ltd in 1970 and the Carlton Clocktower Complex Pty Ltd in 1987.27,28
The site of Christopher Glynn's house and Carlton Place was swallowed up by redevelopment, but York Place still exits and gives some sense of locality. If you walk along York Place from Lygon Street as far as the closed gateway, you can see on the right hand side the place where the cottages of Carlton Place once stood. The bluestone and brick cottages of Barkly Terrace, where Squizzy Taylor and Snowy Cutmore had a fatal shootout in 1927, were demolished in 1965. The foundations of the All Saints Church, which Christopher Glynn laid back in 1858, are all that remains of his building legacy.
Related items:
Freeman's Livery Stables
Squizzy Taylor, 1888-1927