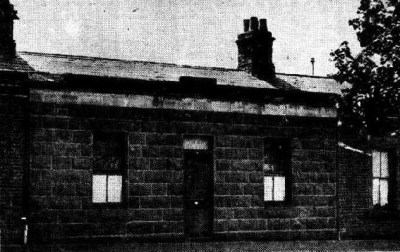 Image Source: Chronicle (Adelaide), 5 November 1927
50 Barkly Street Carlton



Photo: CCHG
Stone Lintel from Barkly Terrace
The Shooting Scene
The house at 50 Barkly Street Carlton no longer exists, but a photograph published in the Chronicle in November 1927 shows a double-fronted bluestone cottage, with adjoining brick buildings. The five cottages comprising Barkly Terrace were built in 1862, on land owned by Carlton builder Christopher Glynn. The cottages had several changes of ownership in the 19th century - Abraham Levy (1868), John Rainer (1874) and William Michel (1882). As rental properties, they became run down and were described as "old and always being repaired" in William Michel's probate file of 1895.

At the time of the shooting in October 1927, Barkly Terrace was owned by Alfred Abraham Solomon. Bridget Delia Cutmore, mother of Squizzy's rival John Daniel 'Snowy' Cutmore, had lived there since 1919 and offered rooms for board. She stayed on at Barkly Terrace, the place where her son died and she herself had been shot, until her own death in 1938.

Barkly Terrace changed ownership two years later in 1940, from the executors of Alfred Solomon's estate to members of the Labattaglia family. In an ironic twist, Francesco Antonio (Frank Anthony) Labattaglia was the third husband of Squizzy's widow Ida Pender. They married in 1933, after Ida divorced her second husband George Lewin (aka Mickey Powell) in 1932, on the grounds of desertion.

Barkly Terrace survived its first hundred years, then it was placed under a Housing Commission order in 1963 and demolished in 1965. The "sombre bluestone house", as described in The Sun in 1927, was replaced by a block of flats. A stone lintel salvaged from the demolition site remains a silent witness to the events of 27 October 1927.

Film maker Nigel Buesst, who lived in Barkly Street in the 1960s, included images of the partly-demolished Barkly Terrace in his 1969 documentary The Rise and Fall of Squizzy Taylor. The house with the picket fence, screened in the final episode of Underbelly Squizzy, bears no resemblance to the "sombre bluestone house" of Barkly Terrace, and the street number is incorrect.

In the 1982 feature film Squizzy Taylor, directed by Roger Simpson and Roger Le Mesurier, the shooting scene was filmed in Macarthur Place, Carlton, just around the corner from the building that once housed the surgery of doctors Frank Hobill Cole and Alan McCutcheon.